Swarovksi Crystal and Pearl Cascade Bracelet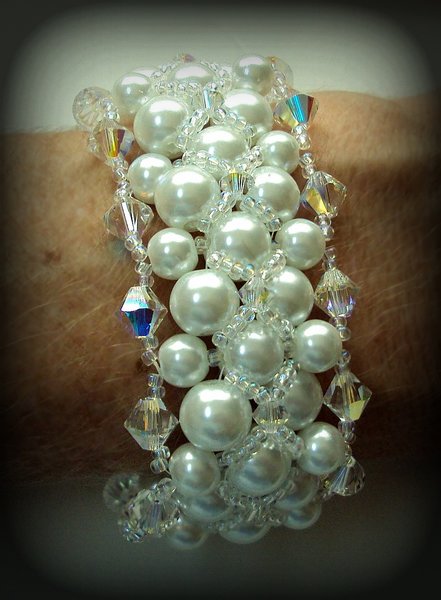 Swarovksi Crystal and Pearl Cascade Bracelet
Swarovksi Crystal and Pearl Cascade Bracelet is an amazing Bracelet matching the Choker style necklace with cascading Swarovski Crystals down the back for a most elegant look.
4mm and 6mm Genuine Swarovski Crystals give it an incredible reflective coloring. Swarovksi Crystal and Pearl Cascade Bracelet is created from the same size and style of white pearls and Swarovski Crystals as the Cascading Choker woven in the same pattern as the choker section.
Matching Earrings can be requested as well for an additional charge.
Thank you for spending your valuable time with us today, your business is greatly appreciated and we look forward to creating an amazing piece of jewelry just for you.
This piece can be custom ordered and you can request colored pearls and/or colored Swarovski Crystals in order to match your wedding or special day's color scheme and/or outfit. To Customize the Swarovksi Crystal and Pearl Cascade Bracelet scroll up and click on the length of your choice (be sure to measure your wrist) then enter your Pearl Color and Accent Bead Color choices in the Text Boxes provided for Pearl Color and Swarovski Crystal Color and place your order. I will then create your Swarovksi Crystal and Pearl Cascade Choker with Silver and Crystal Swarovski Connectors, Swarovski Crystal Elements and Silver Clasp in those colors.

I would like to thank Tess Sartin Portraits for taking these beautiful photographs of Model Victoria Hinojosa wearing my Genuine Swarovski Crystals and Elements Design. Tess Sartin is located at 624 North Main Street, Suite 202, Boerne Texas 78006 you can call her at 469.435.2782, to schedule your consultation and plan your dream photo shoot with her. Tess on Facebook

Reviews