Pearl Shoulder Drape Necklace 1920's Style in White Pearls and Genuine Swarovski Crystals and Elements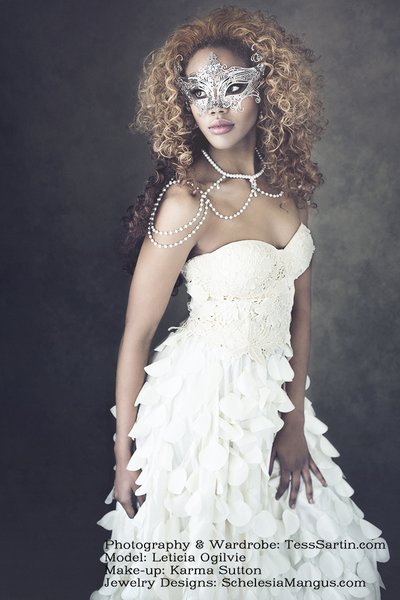 Pearl Shoulder Drape Necklace 1920's Style in White Pearls and Genuine Swarovski Crystals and Elements
Pearl Shoulder Drape Necklace 1920's Style in White Pearls, Genuine Swarovski Crystals and Swarovski Elements. This wonderful creation is light weight, made to stay in place so you can dance, bend over, reach out, up or down and it falls back into place comfortably and easily.
Customized to fit your body dimensions at NO extra charge this incredible Pearl Shoulder Drape Necklace can be worn with a strapless wedding gown giving your wedding dress the look of Unique Elegance you deserve. Please use the chart at the bottom of the page to provide the necessary Measurements required to create your custom fit Pearl Shoulder Drape Necklace.
This Pearl Shoulder Drape Necklace 1920's style is not a "Wear One Time" piece. This elegant necklace can be worn for any and all occasions. Example: over a turtle neck with jeans just to spiff up your outfit. Wear it with a strapless or spaghetti strap sun dress or blouse, the possibilities are endless.
When I create a piece of spectacular jewelry like this I want you to wear it for more than just your wedding day.
Created from Hand Linked High Quality Man Made Pearls (I create the links myself for each individual pearl), Swarovski Crystal and Silver Floral Connectors and Pearl Tear Drops. Includes a 3 inch Extension Chain to allow adjustment at the neck area for comfort.
This piece will become an heirloom piece the moment you purchase it and you will hand the Pearl Shoulder Drape Necklace down to the next generation and the next.
This Pearl Shoulder Drape can be created in different colored pearls other than white as shown. Simply copy the URL for this page, click Contact Us, paste the link and tell us the colors you are interested in. We will find the pearls to suit your color choice and provide a full color photo of them for you to approve, then simply come to this page, enter your measurements and color choice to place the order . You may also request Gold instead of Silver wire and connectors. Schelesia's Creations is a place where you can have your very own "One of a Kind" piece of jewelry made to your specifications guaranteed.

To Download this diagram click on the photo in the gallery at the top of the page, then click again for zoom, right click and choose Save Image As, then save to your computer.

I would like to thank Tess Sartin Portraits for taking these beautiful photographs of Model Leticia Ogilvie wearing my Pearl Shoulder Drape Necklace 1920's Style in White Pearls and Genuine Swarovski Crystals and Elements Design. Tess Sartin is located at 624 North Main Street, Suite 202, Boerne Texas 78006 you can call her at 469.435.2782, to schedule your consultation, so you can plan your dream photo shoot with her. Tess on Facebook
Thank you for spending your valuable time viewing Schelesia's Creations, your business is greatly appreciated and we look forward to creating an incredible piece just for you.
Reviews