Full Collar Fire Fringe Necklace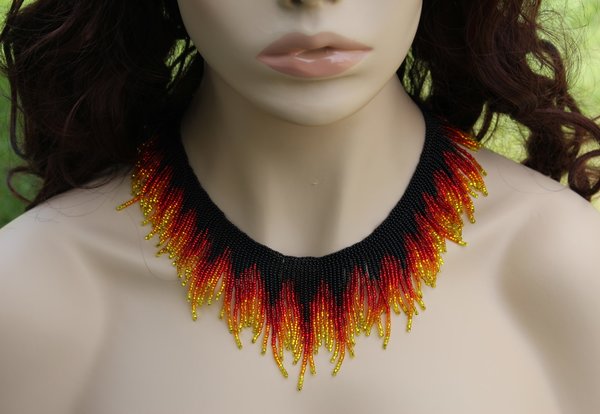 Full Collar Fire Fringe Necklace
Full Collar Fire Fringe Necklace. Hand Crafted with quality glass beads, gold clasp covers entire collar area front and back.
This beautiful Full Collar Fire Fringe Necklace is an elegant piece that makes any fall outfit look fabulous. It makes a wonderful Halloween Necklace as well.
I pride myself in customizing my creations to suit my client's needs, if you would like this Full Collar Fire Fringe Necklace to be created in a specific color scheme, please use us the Contact Us page, include the link to the item and tell me what you would like. I would be happy to create a one of a kind necklace just for you or your loved one. Most customizing does not change the price of the necklace.
Dimensions:
Necklace Length; 16 to 20 inches
Fringe Length; 3.25 inches at the longest flame
Each Full Collar Fire Fringe Necklace is made upon ordering so the length can be customize to your exact needs. Please allow 14 days for creation and shipping when ordering. If you need it soon please contact me prior to ordering to ensure I can create and ship within the time limit you require.
Colors used: Opaque Black, Silver Lined Ruby, Silver Lined Dark Red, Silver Lined Red, Silver Lined Dark Orange, Silver Lined Orange, Silver Lined Lemon Yellow
Based on the Original Pattern by Dragon at beadedpatterns.com, this pattern is copywrited and protected, please do not attempt to duplicate this piece without ordering the pattern at beadedpatterns.com. Thank you
Reviews