3D Beaded Dragon Available in All Colors Imaginable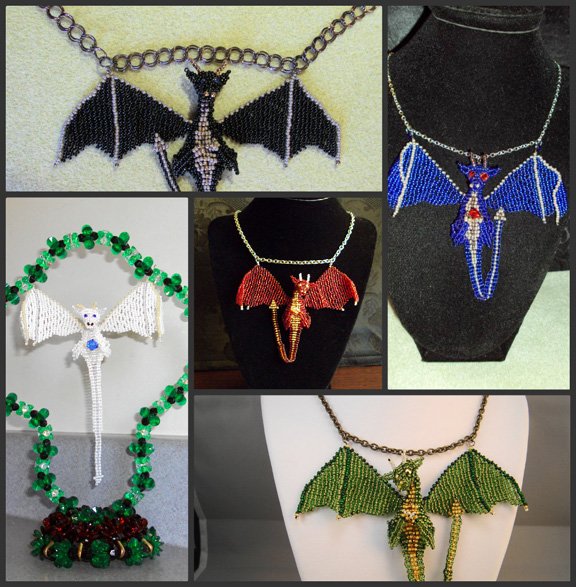 3D Beaded Dragon Available in All Colors Imaginable
3D Beaded Dragon Necklace is an amazing creation. They come in an array of colors; Green, Cobalt Blue, Black, White and Blood Red are currently available. You may also order the 3D Dragons in a customized color, just use the Contact Us page and tell us what you would like for colorization and we will build you a One of a Kind Dragon. The 3D Beaded Dragon is 4.5 inches wide wing tip to wing tip and 3 inches tall from tip of horns to swoop in the tail. Each Dragon holds a Swarovski 8mm Crystal in his talons.
The 3D Dragon Necklaces are shown on an antique metal, silver, gold and gun metal chains at 16 inches in length. You can request a longer chain or a Customized Crystal or Beaded chain as well. Feel free to be creative, use the Contact Us page and tell us what you would like your Dragon's colors and chain to be created out of for a One of a Kind unique dragon all your own.
3D Dragon Necklace Chains can be customized for length. Chain's standard length is 16 inches, other lengths available during check out, you may also use a 3 inch extension chain to make your dragon reach the perfect location when wearing it. Please use the Contact Us page with any questions or special requests.
All 3D items can be worn as a Necklace or Displayed in a display such as a crystal heart or maybe you have an idea for a display of your own and you would like us to create it from Beads and Crystals or even Wood. Contact Us with your ideas we would love to create a One of a Kind display or a One of a Kind Chain to wear it on just for you. This amazing creation takes approximately 20 to 28 hours to create, longer if necklace is customized and uses approximately 2400 to 3000 beads.
Pattern by Dragon of Beaded Patterns
Reviews