This Reviews page contains Reviews sent to us from our customers via email.
We have updated to a new website layout which now allows you to post a review directly on the item page.
The Reviews below are directly from Clients who purchased products and creations from us prior to September 2015 or preferred to email them directly to us with photos
---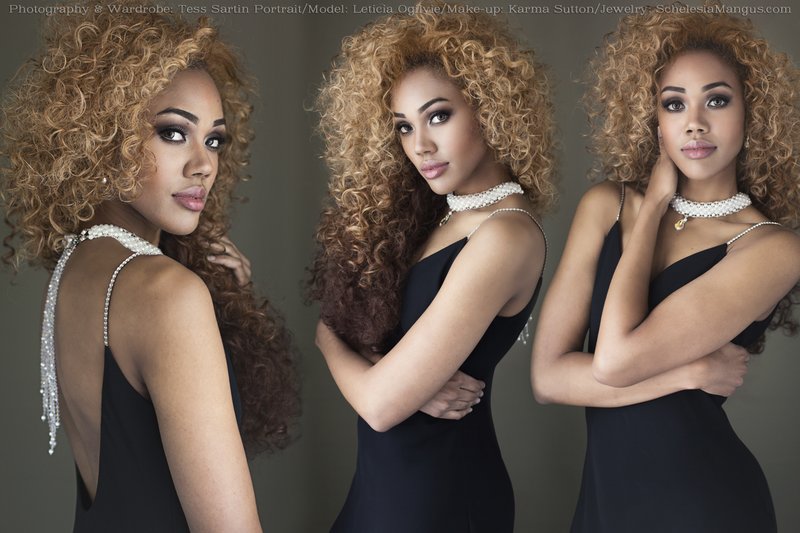 I am over the moon with how these images turned out!!!
What a beautiful, inspiring model(Leticia Ogilvie) and that hair!!!!The make-up was
flawless thanks to the very talented Karma Sutton!!!
My studio wardrobe was used for clothing & mask.
The jewelry you see in the images are all the amazing creations of a talented
lady in Michigan named Schelesia Mangus.

If you are interested in purchasing any of the jewelry just check them out at
schelesiamangus.com. Tell her I sent you.
Thank you Schelesia for creating the incredible Swarovksi Crystal and Pearl Cascade Necklace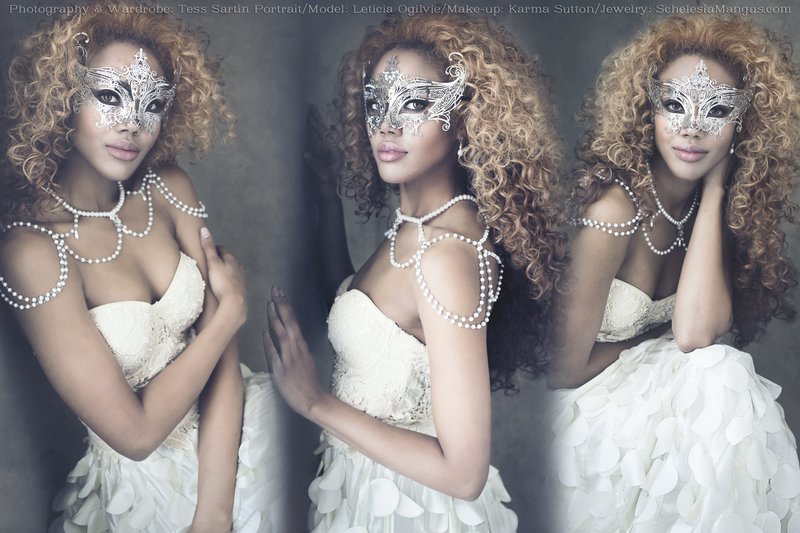 ---
B. Sherbesman Watch Band Custom Order

Original Watch Band sent to Unique Beaded Gifts Mr. Sherbesman requested that we remove the the metal expansion band and replace it with a customized hand beaded band that would match the Indian Markings on the original watch's Silver Cuffs.

This is the finished Watchband sent to B. Sherbsman
Shelley - Really like the band a lot. Great job, the design and colors you chose are very representative of the piece, great eye, your talents shine.
I will be ordering up a hat band just
like the watch band to match soon. Thank you much for doing this for me.............. B. Sherbesman
.
8/9/2013
---
B. Sherbesman Hummingbird Necklace Bracelet & Earring Set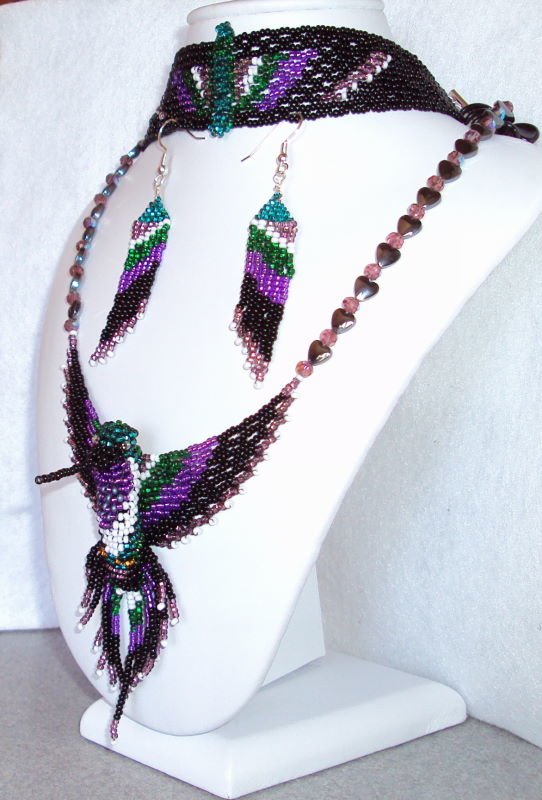 Shelley - Thank you for excellent work on the 3D hummingbird necklace, bracelet and earrings. These pieces are just beautifully done. Pricing is great, and so are your business practices. I will be doing more business in the future with unique beaded gifts.
B. Sherbesman 4/1/2013
---
A. Bryant Seattle Washington ordered 7 custom Butterfly Necklaces on crystal chains, one custom Blue Rose with dew drops trimmed in gold, one 3D Blue Jay on Tiger Eye Chain and a Red Dragon on Red and Black Crystal Chain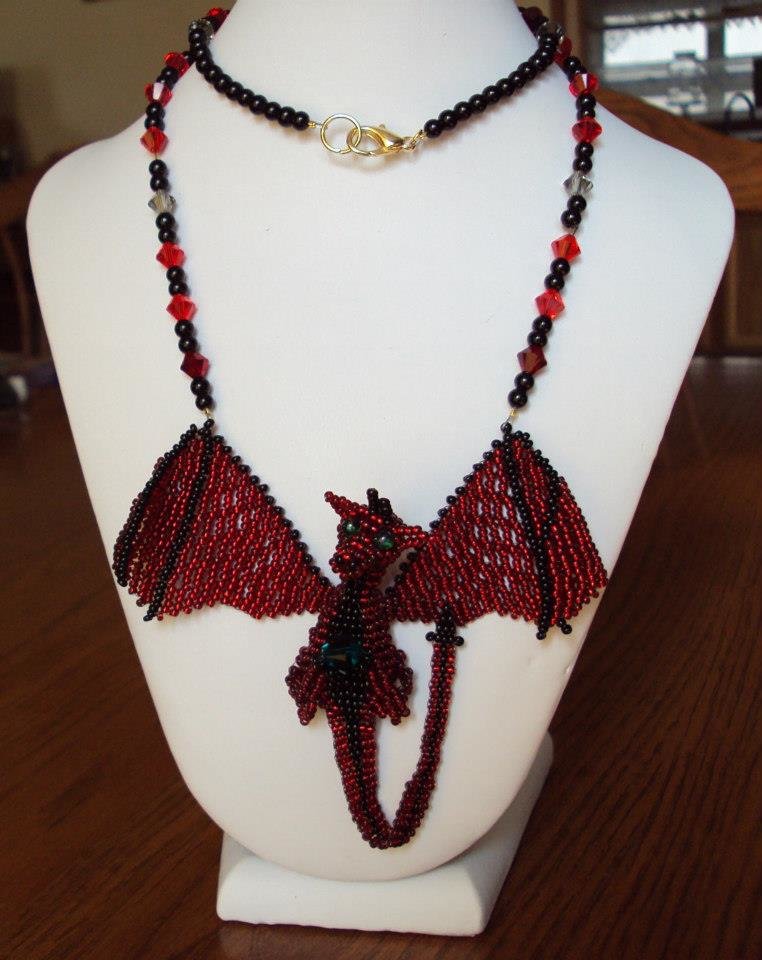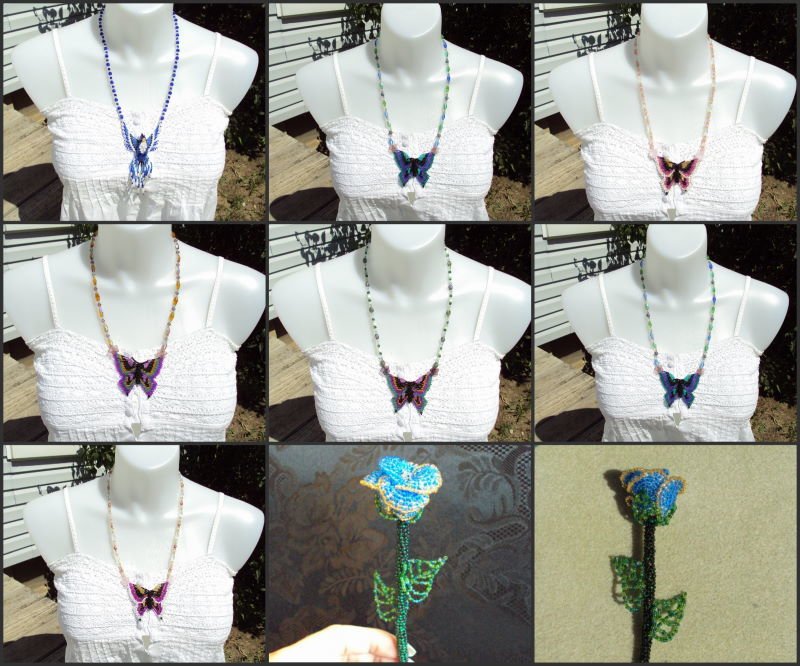 Hi Shelley! Yes, we got the order just fine, and thank you so much! I think it was delivered to our mailbox earlier in the week, Bill
brought it up to me today, and it is all b-e-a-u-t-i-f-u-l!!! I love the colors you chose for the butterflies, and the necklace strands are so cool - and even better in person!
Thank you!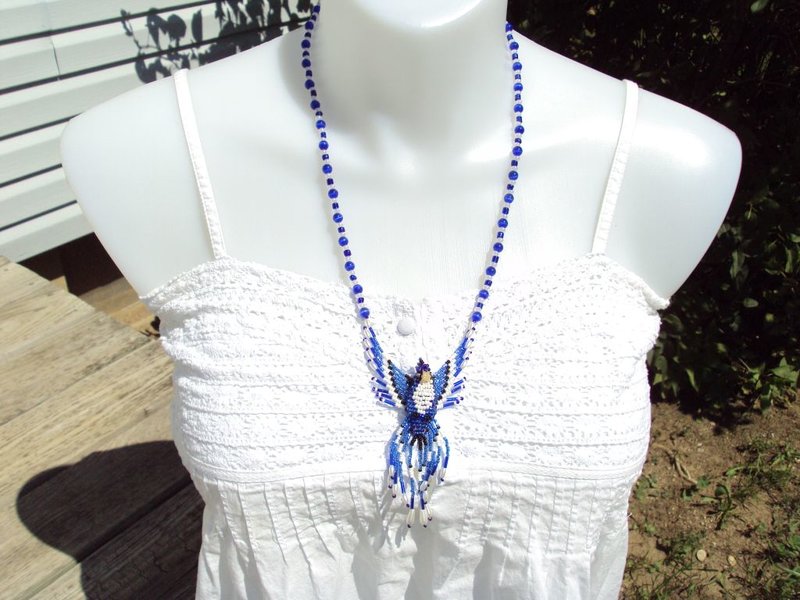 A. Bryant of Seattle Washington 2/20/2014
---
M. Teasdale Custom Hummingbirds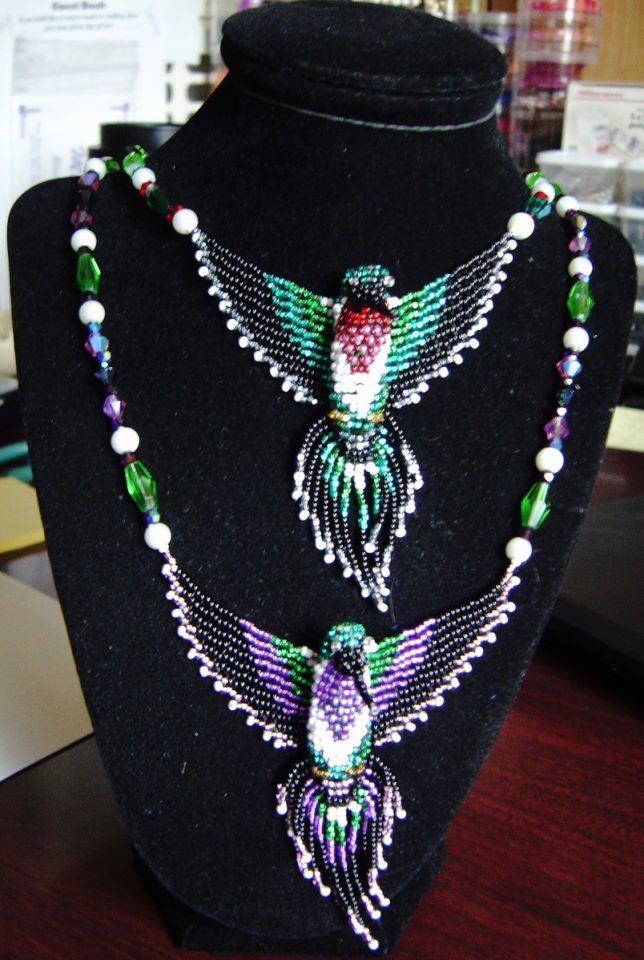 It's amazingly beautiful, Shelley. I think the chain is so pretty too! There is so much work put into them! And the price... worth it, they are beautiful!! Thank you so much for all your input and communication on this special order.
Sincerely,
M. Teasdale
Quebec Canada 10/2/2012
---
This video was created from the set of 2014 Crystal Snowflakes custom ordered December 2014.




Schelesia, These crystal snowflakes are simply AMAZING! I have never seen anything like them anywhere and I am so happy to have found your website. I look forward to ordering more from you for 2015 Christmas Season. Thank you so much for making them in the colors that I chose.

Sincerely,

K. Leamon, Massachusetts